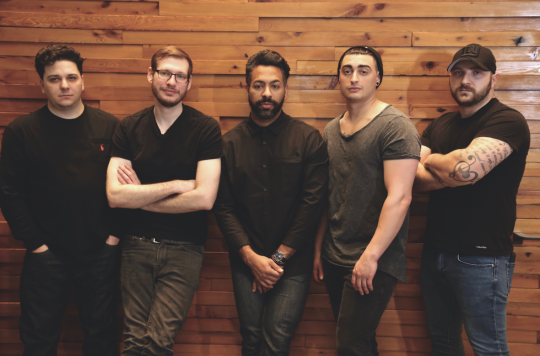 On the heels of what many call "Cupid's holiday," it's important to remember not to fall into the typical clichés you see in romantic comedies – especially if you find yourself in a failing relationship. 
Breaking up with a significant other – especially around Valentine's Day – is never easy. But at the end of the day, if it's what's best for you, you shouldn't be afraid to make that choice. 

Singing about this precise scenario is upstart New Jersey outfit Northvale.
With the help of In Her Own Words' frontman Joey Fleming, Northvale can be heard applauding those who are brave enough to end damaging relationships  via their latest single "Sleepwalking."
"Writing 'Sleepwalking' came pretty naturally," says vocalist Keith Karol. "It was such an easy thing to express because it's about something that so many people can relate to – being in a toxic relationship and being strong enough to get yourself out of it. The story behind the song is serious but when you think about it, it's a positive thing to get yourself out of a situation like that so we wanted the music to really hit hard and make you feel good. I think that's exactly what we accomplished."
As for pairing up with Fleming, guitarist Mike Piacentini added, "Working with Joey was awesome. It just seemed to work out effortlessly. We had all talked about it as a band and decided that his voice would fit perfectly on the song so I hit him up. He happened to be in New York and it kind of all just fell into place relatively quickly. He came through the Sony Studios and laid down the guest feature while he was on tour in the city. He's an incredible vocalist and a cool guy, we hope to work with him again in the future."
To check out Northvale's new track, be sure to look below. For more from the band, head here.