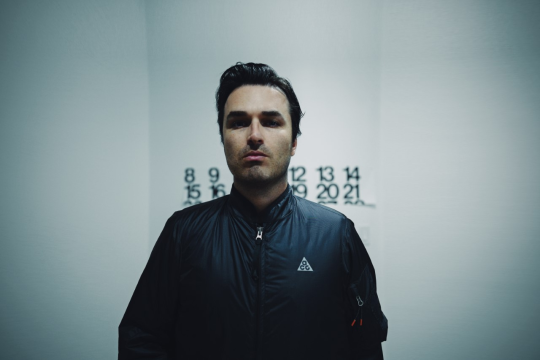 Look, we'll be honest with you: Electronic music gets a pretty bad rap these days. Thanks to Coachella kids and frat bros looking to fist pump until their elbows swell, the thought of listening to dancey, synth-heavy music comes with a lot of unnecessary judgement. 
That said, if you're looking for electronic music free from air horns and glow sticks that leans more on The Prodigy, Nine Inch Nails and Starset realm, look no further than The Anix's gripping new LP GRAPHITE.
Complete with 13 pulsating tracks wedged between the hard rock and EDM universe, GRAPHITE showcases founder Brandon Smith at his absolute best and most diverse.  
"GRAPHITE is an anti-pop electro album," says Smith. "It's an album conceived with virtually zero influence from what is popular or happening in today's music scene. The listener will experience a wave of song styles, ranging from a grunge electro rock vibe, to a more dystopian night-drive, beat-driven song style. Colossal bass and chaotic beats glue the album together and create continuity throughout. This is a group of songs created entirely at night and should be used to help create your own soundtrack to the extremely volatile world we are living in."

As for the creative process behind The Anix's new full-length record and first since 2019′s Hologram, Smith states this album was built purely out of necessity rather than public perception.   
"I never create anything with the intention of impressing people and gaining popularity," he comments. "This goes for my videos, songs, merchandise, photos, etc. The creation process is more of a self-satisfying, selfish need to build something from scratch to keep myself sane and engaged during the process. Some people hit the gym or have a glass of wine to clear their head, but for me, it's a bit more complicated as I require building groups of songs to achieve that state of self-satisfaction." 

Now, for your first taste of GRAPHITE before it officially hits streaming services tomorrow via FiXT, make sure to check out the record in full below. Afterward, for more from The Anix, head here.