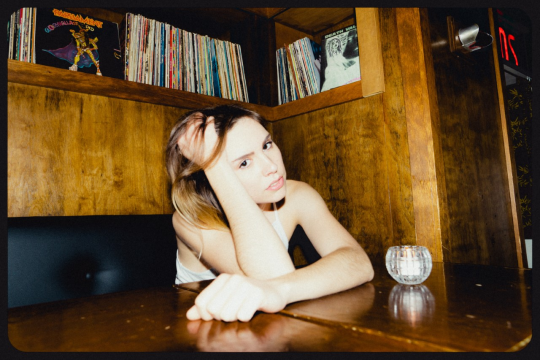 If we had a dollar for every time we've written about how much quarantine stinks, we'd be rich enough to buy a full-on hazmat suit and come tell you in person. 

However, since that's not the case, we'll just have to keep doing it here: QUARANTINE SUCKS AND WE'RE GOING STIR CRAZY.
Now that that's out of the way, how about a little music to help fight the quarantine blues? 
Coming from emerging grunge pop artist Talker, today The Noise is excited to premiere a new quarantine-made music video for her passionate single "Personal Space."
Detailing the track taken from her latest EP Wax, the skilled singer-songwriter says, "'Personal Space' is a song about getting some peace from the chaos in your head, getting personal space from yourself. I wrote it over a year ago but it's become more relevant than ever during quarantine as I sit feeling isolated with my brain going wild. I wanted to find a way to visualize that and bring it into this light."
As for her new video filmed at home under strict social distancing guidelines, Talker adds, "I'm super lucky that my roommate's boyfriend is a great filmmaker, so we filmed this video entirely in quarantine – the shots are in my house and on my street. We had super limited resources because obviously we didn't have a crew and just had the equipment we had – we used a lot of room lighting and iPhone flashlights, plus one main light that Sean (the director) happened to have."
"I wrote out a super detailed shot list and really committed to the concept so that we had every little moment planned out," she states. "It ended up being super fun and a great way to force us to be creative within certain parameters."
Talker concludes, "My goal is that anyone who watches this feels seen and feels a little bit less isolated – we're going through a collective experience and I hope the connectivity and vulnerability that's come out of this stays with us afterwards."
To check out Talker's intimate new video, be sure to look below. Afterward, make sure to pick up a copy of Wax here.