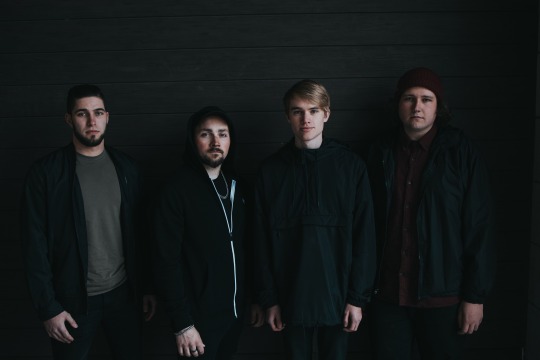 Happy New Music Friday everyone! While we're sure you have a handful of records you want to listen to today on repeat in your room with your best headphones on, you may want to wait and let us make one small suggestion first. 
If you're looking for anthemic melodic metalcore that packs a punch similar to Wage War, Fit For A King and Currents, look no further than City State's fantastic debut album Equinox. 
Released today via Famined Records, the 10-track effort is an ethereal experience most bands don't accomplish until at least their third or fourth record. Don't believe us? Lucky for you, today The Noise is bringing readers an exclusive track by track walkthrough of the Michigan natives' brand new record.
Giving fans a look into one of this year's more impressive releases, Duncan Green, Logan Jahr, Parker Sovinski and Daniel Bryan dive headfirst into their first full-length album detailing the record's deepest and darkest moments.
For a glimpse inside City State's outstanding release, be sure to check out the track by track writeup below. Afterward, make sure to pick up a copy of Equinox here.  
Dissolve
"Dissolve" is about losing yourself in a toxic relationship. It's about pleading for help from a partner because the relationship has become unhealthy but that partner thrives off of your emotional distress and lets your mental state become worse and worse until there is no returning from who you've become.
Crooked Walls
"Crooked Walls" is about a father coping with the departure of his partner, as well as the new responsibility involved with raising their child alone. It focuses on the fact that breakups happen but a parent never has a right to abandon their child.
Vein
"Vein" is about the western world's exploitation of resources and culture of imperialism. It flashes between modern times where we are woefully negligent of our consumption and the past where western powers landed on foreign soil and colonized them for wealth and power.
Wilt
"Wilt" is about watching someone close to you deal with a sexual assault. The lyrics are meant to be during a breaking point, where the speaker is enraged at the fact that the victim of the assault has to deal with the ramifications while the perpetrator walks free and moves on.
Reflections
"Reflections" is about being unable to pull yourself out of an unhealthy relationship. The speaker is completely aware of how bad the relationship is but clings to the hope of returning to how things were, even if how things were wasn't that great either.
Exploit
"Exploit" is about political corruption. It's about being fed fear and lies and manipulation until we believe it and then turn a blind eye to the problems that are really happening.
White Lies
"White Lies" is about someone pretending to be someone they're not, until that
disguise ends up hurting them and everyone around them.
Bitter Sleep
"Bitter Sleep" follows a person who has a terminal illness. The speaker has been in immense pain for years and is angry that the world would force them to live in such agony for so long. This is possibly the darkest song on the album because it shows the thoughts of a person who desperately wants to die so the pain will end. Then, in the final moments of the song, the speaker feels intense sadness and guilt at the thought that losing their life would also mean losing their family.
Nothing New
"Nothing New" is about battling inner demons and not being able to change. The speaker in this song has come to the realization that they are hurting themselves and others and that may never change.
Requiem
"Requiem" is about the aftermath of losing a partner to an overdose. It's about coping with the fact that they were there one night and gone the next morning. The song discusses the idea that the drugs were used to escape pain but they ended up causing much more pain as a result. The speaker's mental state is going into very dark places as they realize that nothing will ever be the same and they wish they would've died too.