If you've ever attended the Vans Warped Tour, there's a very good chance you've accumulated some sort of life-long memory. Be it positive or negative, it's difficult to walk through Kevin Lyman's world-renowned punk rock summer camp and not take away something memorable. 
Like most of you reading this at home, the bands who have graced the Warped Tour stages throughout its illustrious 25-year career have also garnered some pretty special memories as well. 
Take Sleeping With Sirens frontman Kellin Quinn, for example. From attending the traveling festival as a high school student to years later playing the main stages, Quinn has been able to make quite a career for himself thanks to Warped Tour.   
"My first Warped Tour memory was in 2004," Quinn tells us at Warped's recent 25th-anniversary show in Atlantic City. "I was in high school and I went to Warped Tour in Michigan and I got to see The Used. I saw Bert [McCracken, vocalist] jump off these crazy speaker stacks into the crowd, which is nuts. I got to meet Underoath and I got to watch From First To Last. That was the first time I ever saw [guitarist/producer] Matt Good and now me and Matt are really good friends."
Talking with more Warped Tour vets in Atlantic City like members of Taking Back Sunday, Anti-Flag, Memphis May Fire, Atreyu and more, we were able to hear about some pretty interesting Warped Tour experiences – like the impossible task of playing after Green Day or when somebody almost burned their bus down due to excessive fire shots.
To read what the seasoned musicians had to say about their unforgettable summers on the Warped Tour plus their heartfelt goodbye to Lyman's influential and iconic festival, be sure to see below. For more Warped Tour coverage from Atlantic City, head here.   
Chris #2 - Anti-Flag
Favorite Warped Memory

My favorite Warped Tour memory of all time? That is really, really hard because we've done 11 Warped Tours. So I'm going to give you a top three and I'll keep them all very short. I loaded Eminem's gear onto his stage so I could watch him because he had a closed stage and his set was really cool. That was in '99. In 2000, we played last in Pittsburgh after Green Day and that was – Green Day is my favorite band of all time and I wouldn't be here without [them]. Pittsburgh is our hometown so our entire families were on the stage, Green Day's drums are burning and they're like, "Okay Anti-Flag, good luck!" And the show was great so that was a really great experience. And then the last one, maybe being 2004. The whole focus of our show was about the re-election of George W. Bush and trying to influence people to get involved and get engaged and there was a record number of people registered to vote on that summer tour. It felt like there was real power in the music and the community of Warped Tour and that was something that I think if we harness [and] if we keep that part alive throughout all of this, then it will be worth something. To this day, we meet people who were registered to vote at those shows and are still active and still empathetic and to me, that's the win of it all.
Least Favorite Warped Memory

Okay, so we played after Green Day twice. We closed the main stage twice on that tour. The second one was in Philadelphia. After the show – we had an amazing, amazing show, one of our best shows ever – we get off stage and the audience fence is like, right behind the stage and there's a little opening.  Everyone is leaving the show because it's ended and everyone's kind of congratulating us and saying whatever. And then this one guy just says, "Hey, Pat" and Pat turns around thinking that guy's gonna say hi and he just sucker punches [Pat] in the face [laughs] and it was really funny to me because it was like, "Holy shit! Did that just happened?" But also, it was pretty terrible. He didn't get hurt or anything, the kid wasn't that strong. But it was just like the highest high of like, "Oh fuck, we closed the show. We ripped it, it was sick." And then someone punched one of our guys in the face [laughs].
Most Brutal Warped Tour Memory

In 2004, in Florida, there were people who were coming to the shows to fight. They were nationalists. They were, you know, for lack of a better term, searching out people who thought differently than them and tried to fight them. They all were wearing mouth guards. We started playing, we saw this happen and we just stopped. We had a 30-minute set and we were silent for about 17-20 minutes of the show. We were not going to play another note until the violence stopped because we're not a jukebox for violence. And eventually, people realized they were getting kicked out of the show and the shit wasn't going to fly and we were able to move on but that was one of the more brutal and testy moments in Warped Tour history.
Who was the first band you remember being starstruck by or just excited to be spending the summer with on Warped Tour?

It was definitely Green Day. But also in that same year was NOFX and Weezer for me. And that's insane. You know, that was the year where we signed to Fat [Wreck Chords] because Fat Mike saw the shows and he was wanting to invest in the band and help us. On the very first day of Warped Tour, I met Billie Joe Armstrong. And I said, "Hi, I'm a tremendous fan of your band. I play in a band called Anti-Flag." And then he asked me how the politics of Anti-Flag were lining up with doing a corporate-sponsored tour like Warped Tour and my head exploded [laughs]. I was like, "First off, you know who we are? Second of all, you know the politics of our band?!" So I gave him some bullshit answer that I'm sure I would use in an interview or whatever just to get out of there. Then I randomly called home like, "Billie Joe Armstrong knows who we are!" But yeah, being around that and seeing the humility of Green Day, it led to us later playing with them on the American Idiot Tour and doing some other things with them. I'm forever grateful for Warped Tour providing me that experience. Because, if it wasn't for seeing [Green Day] on TV – because I loved music and I wanted to be around music – it never crossed my mind that I was able to do it. And then I saw this person who had pimples and he looked like me and it wasn't that far off. They were just normal folks on TV and they did it. So why the hell couldn't I? That's why we take our shit into the crowd at the end of every show. That's why we've really worked to just destroy the barrier between audience and stage. For lack of a better reason other than we're just four assholes from Pittsburgh, anyone can do this.
Final Words To Warped Tour

Obviously, we want to thank Kevin for working as hard as he has over 25 years. We've been a part of a lot of [Warped Tours] and they're a big reason why the band has the history that we have in America. I'm hopeful that as it manipulates and manifests itself into whatever it is in the future, that we can be a part of it. But if nothing else, I hope that the people exposed to Warped Tour – those that played it, those that put it on, those that worked in catering, those that came and were patrons and walked through the door – that the idea can live on beyond the show. There is no band hierarchy. There is no separation between audience and band member. The people that built this thing are of this community and so any person who's out there who's got a song in their heart, anyone who's out there who gives a fuck about more than just themselves, you can do this. I'm just hopeful that the next version of it is just as empathetic and just as cool.
Matty Mullins - Memphis May Fire 
Favorite Warped Memory

I would say my favorite Warped memory is the Warped Tour 25th anniversary today on the Monster stage at 2:20pm. Honest to God, bro. I've said this for years, my favorite show that we've ever played was Sydney, Australia [at] Soundwave. It was just unbeatable in my head [and] today beat it. I think this is my favorite show we've ever played. I mean, [today was] a taste of Warped instead of doing the whole summer, which I think makes it that much more special. But I mean, like, how many times can a band like ours be a part of something that sold 35,000 tickets? It's just not an opportunity that most people will ever get in their lifetime. I mean, dude, the sea of people and the actual sea to the right of it, it was just insane man. So yeah, today was my favorite Warped Tour memory ever.
Least Favorite Warped Memory

Worst memory ever? Gotta be careful with that one Kevin's gonna read this [laughs]. My least favorite Warped Tour memory ever was probably our bass player Cory broke his pinky right before we went out. It was his left pinky right before we left for Warped Tour the first year we ever played it and he had a big cast around his two fingers. We really stressed out about it. That doesn't sound that crazy. I don't know. I love Warped Tour. Nothing bad. Nothing bad about Warped Tour.
Most Brutal Warped Tour Memory

Las Vegas, Nevada. Las Vegas, Nevada on the blacktop down on the strip was dangerous how hot it was. Like the heat coming off of the blacktop was like 130 degrees. That was brutal, bro. I've never played a show where I actually thought I might die and that was one.
Who was the first band you remember being starstruck by or just excited to be spending the summer with on Warped Tour?

I don't get starstruck very easily just because I was raised in such a different genre of music. But MXPX was a huge deal for me. So when Mike Herrea was playing with Goldfinger and I met Mike and just got to hang with him, I mean, that was a starstruck moment for sure.
Final Words To Warped Tour:

Gonna make me tear up, man. Thank you for this community. To Kevin [and] everyone behind the scenes, but also to everyone that came to Warped Tour, everyone is part of this community. This will never die, the memories will live on but also the relationships that we've created will always live on. We would not be the band that we are today if it wasn't for Warped Tour and the four years we got to play it. So thank you. Thank you for everything.
Kellin Quinn & Jack Fowler - Sleeping With Sirens
Favorite Warped Memory
Kellin: I have a lot of favorite Warped Tour memories. So I think just being a part of the tour is my favorite memory. You know, like every time we come in and we're a part of Warped Tour and we get to see our friends and our family, it's always just a really good time for us.
Jack: Yeah, the first Warped Tour we ever did we were on the Monster Energy stage, not the main stage. Being out there every single day and seeing people show up, it was like the first summer tour we ever did. We were like, "Oh my god, something's happening! Like it's actually happening." So I think it's 2012 Warped, one of my favorite Warped Tours.
Least Favorite Warped Memory
Kellin: My worst Warped memory is knowing that there are only two more Warped shows left! It feels weird knowing that something I grew up going to, something I got to be a part of, is actually ending.
Jack: My least favorite Warped Tour memory was when we were trying to do flaming shots with Everclear and I accidentally blew one too hard and almost caught our whole bus on fire. Like a wall just went up in flames. And I was like, "Well, I'm not going to do this shit anymore."
Most Brutal Warped Tour Memory
Jack: Someone got struck by lightning in West Palm Beach one year. That's pretty brutal. One time we started a song and had to stop halfway through and had to restart the song. That's pretty brutal.
Kellin: Yeah, that was brutal. I had kids mudslide down a hill one time. It was raining. That was pretty sweet.
Jack: But that wasn't that brutal.
Kellin: It wasn't brutal. But maybe those kids getting in their parents' car after the show, [that] might have been brutal for the seats.
Who was the first band you remember being starstruck by or just excited to be spending the summer with on Warped Tour?
Jack: The first Warped Tour I went to I walked in and As I Lay Dying was playing and I was like, "This. Is. Incredible." So As I Lay Dying was my first like Warped Tour memory.
Kellin: I'd say for me, probably Every Time I Die because [when] I was a kid I bought an Every Time I Die CD, and I can't remember which one it was right now, but it had a DVD with them on it too. It was like them by their pool, like cooking food and like live stuff. So just getting to see their live show [in person] was awesome and we really love those dudes now.
Final Words To Warped Tour:
Kellin: Warped Tour, you've been amazing. You've been kind. You've been hospitable. We love you. Thank you so much for having us for so many years.
Jack: Thank you Kevin, Lisa, Kate and all the other people who have made this tour possible. So happy we were able to be a part of it for so many years, we couldn't thank you enough.
Brandon Saller - Atreyu
Favorite Warped Memory

All-time [favorite] Warped Tour memory? That's so hard. I feel like my first time I ever went to Warped Tour was – I can't remember the year it was so long ago. It was in Anaheim when they used to do it outside of the Arrowhead Pond which was weird becuase it was like half under a freeway but I remember seeing like Papa Roach and AFI and like so many bands that I obviously wanted to see. But it [was] the first time I was ever exposed to something like [Warped where] it's just something on such a massive scale and like everywhere you look rad bands are playing. 
Then playing it for the first time, the vibe was awesome. That year was like the golden year I think for me. It was us, My Chem, Fall Out Boy, Avenged Sevenfold, Underoath, Motion City Soundtrack. So many great bands. [*Noodles of The Offspring walks by*] They were on it. Transplants were on a bunch of dates, it was just like on and on and on so it was cool to be part of that. I remember we played our home show and we played early that day. There was a bunch of traffic getting in so me and I think Dan [Jacobs, guitarist] or someone was on stage waiting to go on and the rest of our band was literally running up the hill 'cause the traffic was so bad. They had to run like two miles up the hill and we ended up going on like four minutes late. That was a good memory.
Least Favorite Warped Memory

There aren't many bad ones, you know? [Warped] is always hot. The catering lines are long, but that's just part of the deal. It's a good time. There's always such good hangs. Like even the last one we did a few years back, Good Charlotte was on it and we're really good buddies with them. So [it's] just like hanging out with friends you don't get to see all the time, you know? It's a vibe, Warped has always been a cool vibe.
Most Brutal Warped Tour Memory

I think the hottest it's been on a Warped show [for us], I think was maybe around like 110 on stage. It was pretty brutal. It's just brutal all day. Like, I'm usually a five-shirt-a-day kind of dude on Warped. Like it's a system. You wake up in the shirt you wore last the night before. That lasts you until you get back from catering because after that walk you're sweaty. You change into a new shirt, wear that until showtime. Put on a show shirt, then after the show put on the shirt you had on before the shirt show. That should last you another like two hours untill the other catering walk. And then there's like a nighttime shirt which you wear till the next morning. It's just non-stop sweat. I'm a big dude.
Who was the first band you remember being starstruck by or just excited to be spending the summer with on Warped Tour?

I think on that first one we did in '05, obviously, bands like Transplants are crazy because it was like Tim Armstrong and Travis Barker. Like, whoa. I remember being a big My Chem fan and then on that tour, kind of becoming friends with them. There were a lot of bands that were in our genre exploding. So it was like, I think just the general awe of being around so many people who you don't know yet. There's always that weird barrier of like, "You know what band I'm in and I know what band you're in but we don't know each other yet so it'll be awkward for two weeks and then we'll become friends." It's like a lot of that where it's not necessarily maybe "starstruck" but it's just like, "I want to talk to that dude, I like that guy's band but it's not the right time yet." You have to find that right moment in line on the way to catering or like at the coffee. A lot of the My Chem dudes, like me Gerard and Mikey would always meet at the coffee machine because we were the three dudes in like black pants and t-shirts getting coffee in 110-degree weather. So that was our common ground.
Final Words To Warped Tour:

It's been a great chunk of time. I have a feeling that hopefully, you know the sparkle will stay alive with these kinds of anniversary shows and stuff like that. But I mean, you can see it today, this is the biggest and best lineup I've ever seen Warped Tour have ever and it's like this is how you're going out? It's kind of going out with a bang, you know? It's awesome.
Adam Lazzara & John Nolan - Taking Back Sunday
Favorite Warped Memory

Adam: One of my favorite Warped Tour memories of all time was there was a show, and it was at Randalls Island in New York. Whenever the tour went through New York, everyone would try to go into the city afterward so I stayed back. Most of all the tour was gone, so it was just abnormally quiet. It was actually kind of nice. So I'm sitting out beside the bus in one of those folding camping chairs and then I just hear kind of like this rumble. I'm looking around like, "What is that?" And then there's like this big thing of hedges, like bushes, and then you just see them start to rustle. It was like a movie, I couldn't believe it. And then out from the middle of the bushes comes Tucker Rule [drummer, Thursday] with a cigarette and beer driving with his knee just as fast as this golf cart could go. And so as he's going by, he looks and sees me and just goes, "Hey!" and takes off. So I'm sitting there like, "Well, that was fun." And then five minutes later here comes their tour manager and he comes tearing around the corner and stops and says, "Adam, have you seen Tucker?!" I'm like, "That way!" and then he just takes off after him. I'm not sure how it ended but neither of them were supposed to have the golf carts. It was real fun.
John: So in 2007, I was on the Warped Tour with Straylight Run at that time, and a guy in one of the bands comes up and knocks on the door of our bus. And I had kind of seen him around, you know, but it was vaguely familiar. And when he knocks on the door, I answer and he asked for a wine opener and I'm like, "Yeah, come on in" and I get him the wine opener. We kind of talk for a minute or two. And then I turned around and Shaun [Cooper], the bass player for the band, is just like wide-eyed and like in awe and he's like, "Do you know who that was!?" I'm like, "No, I don't know." He's like, "That's so and so from Bad Religion!" He's like…
Adam: Brian Baker.
John: Brian Baker, yeah. Like, I know who Bad Religion is but like I've never really like spent any time – but yeah, [Shaun] was like starstruck and I lent him a bottle opener.
Adam: And now you guys are best friends.
John: Now we're best friends.
Least Favorite Warped Memory

Adam: Anytime you have to go to the bathroom during the day 'cause it's like porta-potties. So like, okay, say doors open at 10, right? Or what? 10-11 in the afternoon? No, like noon. So doors open around noon. Now come like seven o'clock at night. That thing's just been sitting out in the Florida heat. And you need to use the restroom and that's the only one in sight, man. Your next best option is to walk 20 miles in any direction until you find one. So that's your only choice.
John: What about the trick that someone developed where you put a lock on the door but the door is actually open. It fools people into thinking it's locked. So it's like…
Adam: Oooooh. Like the like green, red thing and then so you think…
John: No, no, no, like an actual…
Adam: Padlock?
John: A padlock. But it won't be closed through the whole thing and locked. It's just sitting there to give the illusion of being locked. And you tell your friends "Hey, this one looks like it's locked but it's not. Yeah, porta-potty number four."
Adam: My thing with that is I would feel really bad about it for the first half of the day or like the first half of the tour and then at the end, I'd be like, you know, that's my fucking porta-potty. I can't do that shit anymore.
John: Taking Back Sunday played the whole Warped Tour in 2012 and towards the end of it, we had a show and it was probably like two in the afternoon. It had to be like 100 degrees. We'd been on Warped Tour forever at that point and I had definitely been drinking way too much the night before. I was probably only up for like an hour or two and barely hydrated or anything. Halfway through the set, my heart is pounding like harder and faster than it ever has. Sweat is pouring out of my body and I'm feeling dizzy and lightheaded. I literally was like, "I think I might die. This might be the way that I die." And then another part of my brain was like, "It's okay if we die like this. It'll be fine. At least you won't feel this way anymore."
Most Brutal Warped Tour Memory

Adam: Most brutal? I mean, the first place my head goes is to the heat because like Phoenix, Arizona. Ray threw up.
John: That's what I was gonna say.
Adam: Someone else on our crew passed out. I just felt so bad for everyone in the crowd because…
John: I think it was literally like 112 degrees or something.
Adam: Yeah, it was hot. I was wearing Chuck Taylors. And then as we were playing, when I would go do this [*lifts legs*] each time, it was like I had suction cups on my feet because my feet were melting to the stage.
Who was the first band you remember being starstruck by or just excited to be spending the summer with on Warped Tour?
Adam: Well, walking around [with] those NOFX or Bad Religion guys – you know, that was a big deal. The first time we did Warped Tour it was in 2004, back when we were 13 years old. It was just crazy to be there and see those guys walking around because it's like, I felt that we were best friends already because I listened to their music so much.
Final Words To Warped Tour:

Adam: I'm really proud of you, Warped Tour. Really proud of you.
John: I'm glad you're still here. Is this the anniversary?
Adam: Yeah. 25 years.
John: 25 years? Congrats Warped Tour on 25 years. We didn't get you anything but we showed up so there's that.
Juliet Simms
Favorite Warped Memory

Okay, so it was 2011. I was doing Warped Tour acoustically. I was promoting my band Automatic Loveletter's record The Kids Will Take Their Monsters On and I was on the Ernie Ball stage. It was about two weeks into the tour and I started to notice this very tall, very feminine, statuesque-type mannequin man appearing at my sets [with] big black long hair, crazy black eyeshadow and red lipstick. I was like, "What are you doing here?" And he had his security guard Yani with him at the time and they came to a couple sets. So one night, I wrapped up my set, was packing up my acoustic guitar and Danny Worsnop [vocalist, Asking Alexandria] had been watching and he's with his girlfriend at the time and he was like, "Oh, Juliet. I just love your music so much." He's like, "I've been a fan since I was in high school." I was like, "You're Danny Worsnop. Cool! This is awesome." 
You know, a funny thing about my band Automatic Loveletter: We never got really big but I always found that musicians really liked my band. So it's a pretty nice compliment [and] it would always surprise me because we weren't that big. And so when like, rock stars are coming to watch me play I was like, "Oooooooooh my god, I'm kind of a big deal, maybe?" So [Danny] was like, "Hey, do you want to come back for drinks after you're done? And I was like, "Sure, no problem!"
Wait, I'm skipping something so important. Before the Danny thing. The day before, I decided to go and check out [Andy Black's] Black Veil Brides set because he had been coming to mine. I was like, "Well, I'll see what they're all about blah, blah, blah." Side note, guys. Andy and I had met in 2007 on a double date. He was with his girlfriend and I was with my boyfriend and his girlfriend was an actress and she loved my band and I loved her movies. We met on Twitter and decided to go on a double date. Okay, cut back to 2011. Andy and I didn't really like each other. At first, we did. At first, we got along so great. I hung out with his girlfriend just like three or four times, not that much. But we would get along really, really well and we would share tour stories and our love for music and all that. And then his girlfriend didn't like that so much. She did the shit-talking thing to him about me and then vice versa, me about him. So basically, we were like, "Ah fuck you." We were kids. You know how kids' minds work, we were very young. 
And so that's why I was really shocked when [Andy] was showing up at my sets. I was like, "We don't like each other. What are you doing here?" So I went to go and mad dog him and stare him down basically at his set. I went side-stage and I was standing there and he's on stage with Black Veil Brides and they've just got a sea of fucking people and I was like, "This motherfucker. He passed me!" And Andy's running around singing doing his thing and I'm just standing there with my arms crossed, just kind of glaring at him. And he looks over at me and he just gives me one of those fucking shit-eating grins that are just so fucking cute. My arms just dropped and I was just immediately like, "Oh my gosh, he is the most beautiful thing I've ever seen in my entire life." 
So then the next day, when Danny came over and invited me to his bus for drinks – we're back to that part of the story. So I went to Danny's bus later that night and I open the door and I see Danny and his girlfriend and then the only other person on the bus was Andy. And Andy goes, "It worked!" He grabs a bottle of Jack and he goes, "We need to go talk" and I was like "Okay." So we went outside and we ended up sitting in the grass for like – bus call that night was like 4am – we sat and talked for seven or eight hours just about everything. We talked about what his girlfriend had said to him (they were broken up), we cleared that all up. I'm like, "Oh my god, that never happened. I never did that." And we just fell in love, that night. The next day, we told each other we were in love with each other. The following day, I moved onto his bus and two days after that, he asked me to move in with him after the tour. And then that was it, we've been together ever since. The rest is history. We've been together for eight years. Two months after we got together – I've never told anybody this, we've never told anybody this – we eloped in Vegas but we were so drunk at the time that we were not organized about it. It wasn't official – we had gotten the marriage certificate but we had no witnesses and nobody signed the papers. It wasn't official. So that's why we had a real wedding in 2016. But yeah, we met and fell in love on Warped Tour, eloped in Vegas two months after.
Whose idea was Vegas?
Um, well, we were already engaged because he proposed like, five minutes after we got off the bus in LA. We were at dinner one night, this was right before I was going to audition for The Voice. We were just talking about when we wanted to get married and when it made sense and we were just looking at our schedule and he was going to be on tour for like 10 months. And he goes, "Let's just go to Vegas tonight." He's like, "Yeah, I want to marry you tonight. I want to marry you tonight." And I'm like, "Okay" so he's like, "Check [please]!" And we drove off to Vegas. It's pretty storybook, fairytale-esque."
Least Favorite Warped Memory

Oh man, that's a gross one. Oh my God. I mean, I have some really bad [stories]. Okay, guys. Listen, it is not easy being a woman on a festival tour, especially Warped Tour. So you wake up, you don't know when you're fucking playing. You know, you got to get your face together, be presentable. You have to go to the bathroom. You have your woman things. You get your period every month. It's very hard being a woman living on a bus on a festival tour. So that said – oh my god this is so bad I don't even know if I should tell this, people are gonna think I'm disgusting. I won't go into too much detail but I was running to stage, I hadn't gone to the bathroom and we were the first band playing that day. And all of a sudden, I was like, "Oh, no, no, no." I had to use the restroom but what also happened at the same time was lady time. I didn't have a tampon on me so I had to make one. I had to run into a porta-potty and like Chuck Norris that shit [laughs]. Then I went on stage, did my thing and then handled it after. A girl's gotta do what a girl's gotta do to not bleed into her pants in front of five people. So that was pretty shitty. And then I've thrown up a few times because it's been really hot and your body is falling apart. You go, "excuse me a second," run to the back of the stage, vomit a little bit and run back on. That was back in the day before I was – I'm sober now. Me and Andy have not drank in over three years. But you know, back in the day, we were wild. You drank every day, you drank every night and you wake up and your body feels like shit. So of course, in 110-degree weather, you're going to get on stage and five songs in your body's going to go, "Okay, well remember last night? It's coming up now."
Who was the first band you remember being starstruck by or just excited to be spending the summer with on Warped Tour?

Hayley Williams from Paramore. She's like, a vocal Goddess to me. So being on tour with her is amazing. Katy Perry. That was awesome. Katy and I had actually done a couple of gigs in LA together before she was Katy Perry. Like, she was playing acoustic and I was playing acoustic and we'd play shows together two or three times. So it was cool to see her and watch her just blow up on tour. Not jealous at all [laughs]. Who else? Blink-182. Blink-182 was my first rock show. When I was 11 or 12, Bad Religion was opening up for them and I begged my parents "Pleeeeease." So they got me a babysitter to take me. Come on, I was 11. I wasn't gonna go to rock show alone. So they found like an adult supervision-type babysitter and it was me and my brother and my girlfriend. This is my first rock show so I didn't know – I bought third-row seats and I was like, "Oh my God, we're going to be right up at the stage! I'm going to be able to look at Mark and Tom and it's gonna be fucking awesome." And we get there, we get to our seats and I was like, "Oh, shit. They're like a mile away!" And I was like, "this sucks!" But when "All The Small Things" came on, everybody in the arena – it was like a stampede – just rushed the railing and everybody jumped over and I was like, "Bye babysitter!" So we jumped over the railing and ran to the stage. It was like, "Oh my god, this is fucking awesome." So of course, when they were on Warped Tour and I was on Warped Tour I was like, "11-year-old me right now is on tour with Blink-182. What the fuck!?"
Final Words To Warped Tour:

Okay. Do you know how many farewells I've done to the Vans Warped Tour? I can't believe it, this is not goodbye. But okay, if we're pretending that this is goodbye and not like it's going to be back next summer, I owe this tour everything. Kevin, Lisa, Kate, Julie, everybody, all the crew, all the stagehands, all the sound guys, everybody in production, catering, the bands; I grew up on this tour. I went from being a little girl to a woman. It taught me who I was as an artist. It taught me how to have stage presence, it taught me how to sing, it taught me how to write, it taught me how to live, it taught me how to become a really strong woman. I owe this tour that. I am the strong woman I am today because of these people and this tour. So thank you for helping me find myself.
In case all those memories weren't nostalgic and heartwarming enough – which we're pretty confident they were – make sure to check out our full photo review of Warped Tour Atlantic City below thanks to Noise contributor Bryan Meyer.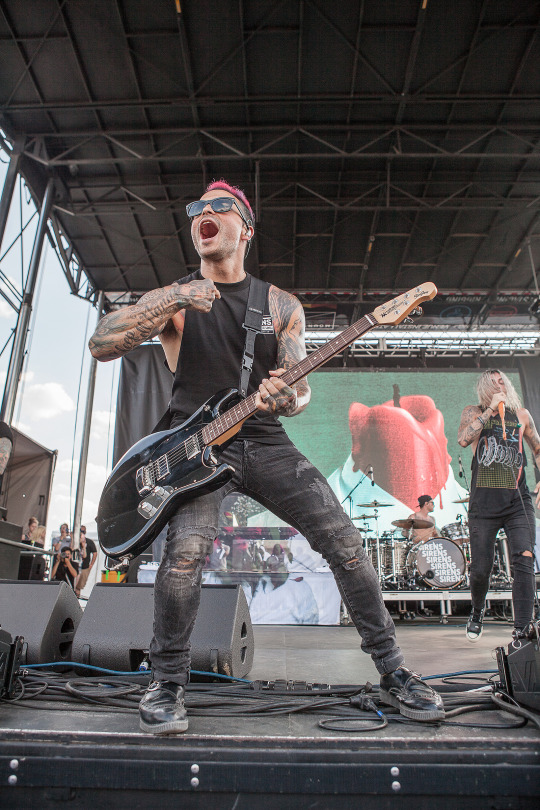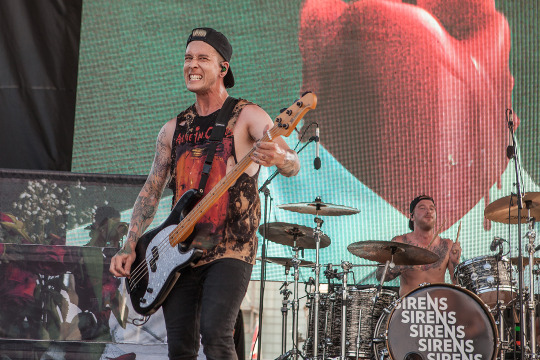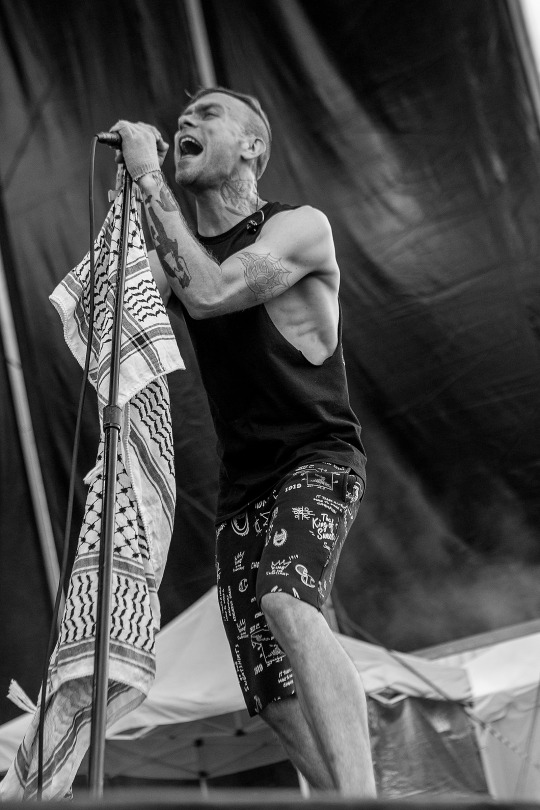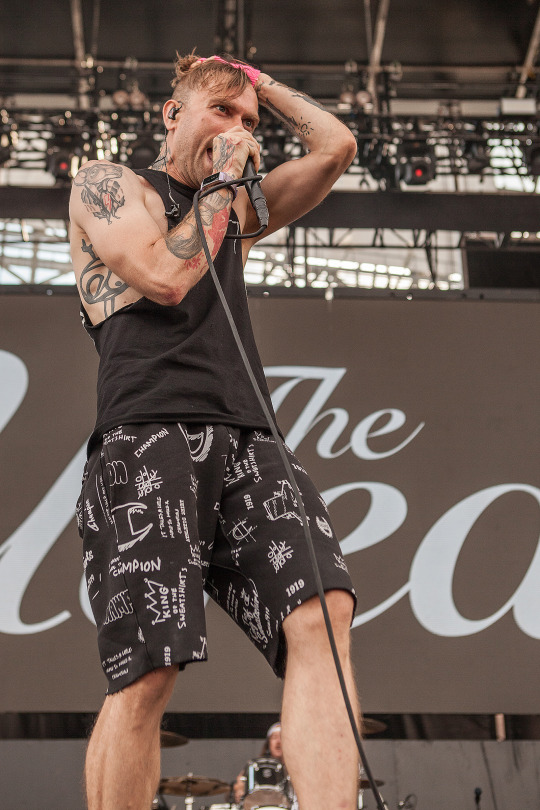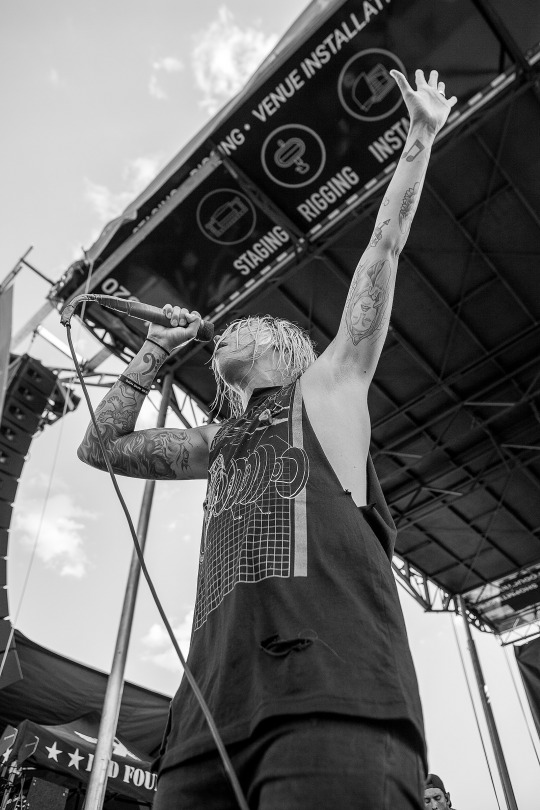 WATCH MORE: