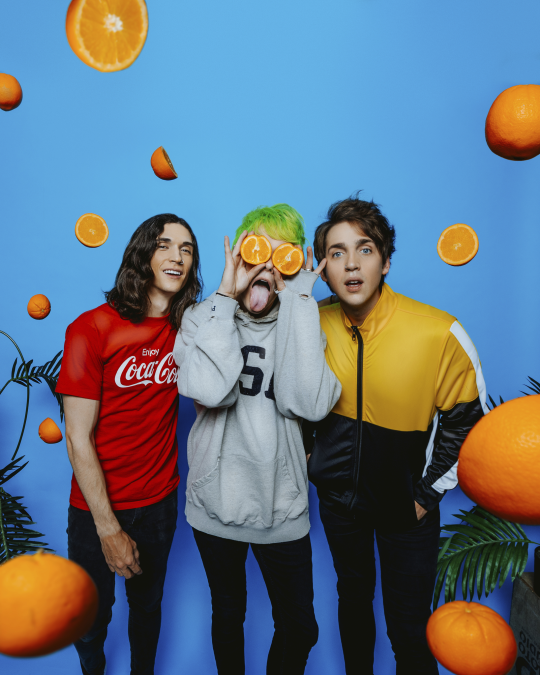 Calling all Waterparks fans! We're sure you are very well aware but in case you haven't heard: WATERPARKS' FANDOM TOUR PRESENTED BY THE NOISE STARTS TODAY!
Now that that's out of the way, we're here to let you know we have the scoop on the can't miss 26-date trek thanks to the one and only Awsten Knight. 
Talking with the flamboyant frontman all about Waterparks' tour with De'Wayne Jackson and Kitten, we were able to find out just how he's feeling as the band prepares for their first night in Atlanta, GA.
To read what Awsten had to say about Waterparks' setlist, playing songs off their new album FANDOM as well as his thoughts on his new book You'd Be Paranoid Too (If Everyone Was Out To Get You): A Collection Of Personal Stories And Insights, be sure to look below. Afterward, make sure to grab tickets to see Waterparks out on tour here.    
We hear you have a lot of new and exciting things in store for the FANDOM tour. What can you tell us about it without giving too much away? Maybe a hint or two…
I ASKED FOR GREEN WIGS TO BE MERCH AND IT HAPPENED SO THAT'S GOOD.

What can fans expect when it comes to the setlist for this tour?

THE GREATEST WATERPARKS SET THAT HAS EVER HAPPENED. LEARN THE WORDS TO FANDOM.

Was it pretty challenging to balance old and new material for the setlist?
NOT AT ALL. COME THROUGH AND YOU'LL SEE WHY.
Which new song off FANDOM are you most excited to play live for the first time?

WE HAVEN'T PLAYED YET SO I'M NOT SURE, TO BE HONEST. WE'RE ABOUT TO PLAY THE FIRST SHOW IN LIKE 90 MINUTES AND NOW THIS INTERVIEW GOT ME NERVOUS. I'M READY FOR THE BASS IN "[REBOOT]" TO PULL EVERYONE'S SKIN OFF. 
Which FANDOM track are you most nervous to perform live for the first time?

I HAVE NEVER BEEN NERVOUS EXCEPT FOR THE SECOND TIME I GOT MARRIED.

Congrats on your new book You'd Be Paranoid Too (If Everyone Was Out To Get You): A Collection Of Personal Stories And Insights! Will you be selling copies on this tour?
THANK YOU! IT IS A MIRACLE THAT IT'S OUT WITH ALL THE OTHER STUFF GOING ON. COPIES WILL BE FOR SALE ON THE AMERICAN FANDOM TOUR, YES!
What initially inspired you to write your book?

I CAN'T HAVE FREE TIME AND WE HAD JUST FINISHED A TOUR SO I SPENT THAT MONTH WRITING THIS BOOK. IT WAS MOSTLY APRIL 2018.
Did you ever think you'd become a published author?
IT WAS ON MY LIST SO YES, IMMA DO ALL THAT.

Thanks for having The Noise be a part of this tour and can't wait to get things started! #StreamFANDOM
LESGO

WATCH MORE FROM WATERPARKS: