Photo by Julius Aguilar
As you are probably well aware, most musicians have passions outside of music. Some like to draw. Some like to skate. Others, like Thrice's Riley Breckenridge, enjoy America's national pastime – baseball. 
Growing up watching the game at an early age and later playing it in high school and college, the Thrice drummer has always been drawn to the bright lights of the big league.    
"My earliest memories are watching baseball games with my dad," recalls Breckenridge. "He had it on at the house all the time. I'd go play in the yard as a little kid and as soon as there was an opportunity to play organized ball I played." 

Now, with Thrice currently out on the road celebrating 15 years of their beloved  LP Vheissu and MLB's Opening Day right around the corner, we figured what better time than now to catch up with the soft-spoken Puig Destroyer member and talk all things baseball.   
To check out our Q&A with Breckenridge discussing World Series predictions, the Houston Astros cheating scandal and how well his Los Angeles Angels are going to do this year (plus a little insight into the Vheissu tour), be sure to see below. Afterward, make sure to grab tickets to see Thrice out on tour here.
MLB's Opening Day is almost here. Any thoughts? 
Riley Breckenridge: I'm excited. The Angels made a great addition in Anthony Rendon. I wish they would have got some more pitching but they haven't done that yet. So I'm cautiously optimistic about the Angels' chances. As far as the game as a whole, I think it's gonna be a weird season with all the Astros drama. I don't think that's going away anytime soon. I don't think Major League Baseball handled it properly. Because of that, I feel like players feel like they're gonna have to kind of fend for themselves and punish them in their own way. I don't know if that's gonna come in the form of beanballs or dirty slides or protests or anything like that, but it should be interesting to see how it all plays out.
How do you think it should all go down in your opinion? Like if you were pitching, what would you do?
I don't know. I'm not a big fan of the beanball war. Even though they're entertaining, I don't think I would enter into that if I were a pitcher. The risk of hurting somebody and then shortening a career is just too frightening to me.  
What were your thoughts when you initially found out about the Astros sign-stealing?
Super disappointed. I mean, I genuinely liked the Astros. I have a friend who works in the front office there. So even though I'm an Angels fan and they're a rival, I really liked watching that team. I mean Altuve, Bregman, Correa, George Springer… they got a lot of really cool, good young talent and it was awesome to see them be so successful so quickly. So to find out that it came by some shady practices is super disappointing.
Aside from stealing signs from second base, do you think other teams are cheating similar to how the Astros did?
Well if you listen to Major League Baseball, they would say outside of the Red Sox, no, the other teams are not. But I have to think that with the tools baseball gave teams to do the instant replay stuff, challenging calls and stuff, they gave them the tools to do this cheating and they didn't police it well enough. So I would be surprised if other teams weren't doing it because it would almost be foolish in a way even though it's unethical. But I think there's a lot of stuff that goes on in baseball that we don't really know about and we aren't privy to. There's a lot of insider secrets.
Do you think sign-stealing is worse than steroids?
That's a tough question.
Some players say if you know what pitch is coming, that's a lot easier than just being a super muscular dude.
Yeah, that's definitely true. I mean, if you're taking steroids, sure you're going to be stronger and you're going to recover from injury quicker and there'll be less wear and tear on you during a long season, but you still have to hit the ball or throw the ball. So yeah, knowing what's coming eliminates a huge challenge.
Okay, so we're gonna get some predictions from you now. Who's your pick for the World Series this season? And if you say the Angels, we don't blame you whatsoever.
No, I'm gonna go Yankees and Dodgers. Barring any catastrophic injuries, they clearly seem like they're a level above everybody. I think the Astros are gonna have a tough season just because of all the drama. There's gonna be a tremendous amount of scrutiny and it's hard to play through that. Even if you're immune to that kind of stuff, it's still difficult. But yeah, Yankees and Dodgers. They're both stacked. The Dodgers look like an all-star team.
The Dodgers getting Mookie Betts from the Red Sox is just insane.
Insanity, yeah.
So what do you think will win between the two of them?
I would say the Dodgers but the Dodgers seem to be cursed. They make it pretty deep into the postseason every year and they just can't finish.
Clayton Kershaw can't seem to get it figured out.
Well now with the cheating stuff, how much of his postseason struggles can you chalk up to the other team knowing what's coming?
Wow, that's very true. Okay, how about MVP and Cy Young predictions?
AL MVP, I'm gonna go with [Mike] Trout again. He's just absurdly good at baseball. Unless he gets hurt, there's no reason to think he's not going to be even better this year than he was last year.
Especially with Anthony Rendon batting before or after him.
A better, healthy Shohei Ohtani too will be helpful. AL Cy Young, I would probably say Garret Cole. A full season with the Yankees is gonna be nuts.
We assume you're pretty bummed he didn't go to the Angels.
Very bummed, yeah. I mean if they needed one thing this offseason, it was like a front end starter and he's legit the best pitcher in the game and he was available. The Angels definitely had the money to throw at him but they just couldn't do it.
NL MVP and Cy Young: I think maybe [Cody] Bellenger again or [Christian] Yelich and Cy Young, even though he's on a terrible team, it would be a repeat again but Jacob deGrom. He's just too good. I feel awful for him that he's on a terrible team.
Some people think the Mets might turn it around this season.
That would be nice if they weren't the Mets. Like, I feel like they just have a thing where even if they're supposed to be good, they can't be good. That's kind of like the Angels too. I mean, every year I'm like, "I think they'll be decent this year." And then they're like 81 and 81 every season.
So before we jump into your current tour with Thrice, how did you get into baseball as a kid? Did you play Little League?
My earliest memories are watching baseball games with my dad. He had it on at the house all the time. I'd go play in the yard as a little kid and as soon as there was an opportunity to play organized ball I played. Then I played through high school and through my first three years of college but quit to do the band thing. Then – I stopped doing this a few years ago – but I played in an adult men's league with a bunch of dudes that played in college and some guys that were in the minors for a little bit. So it was super competitive and it scratched that itch even though I'm way too old to do that [laughs].
Did your brother and bandmate Ed ever have a passion for baseball? 
He played. He played until like sixth grade. He had one season where he got hit a bunch and he was kind of getting into skateboarding at the same time. So he was like, "I'd rather injure myself on a skateboard than get injured by somebody throwing a ball."
So just talking a little bit about these shows. You guys are celebrating 15 years of Vheissu. What has the tour been like so far?
It's been awesome. It's been really cool revisiting this record. It's a record that we're super proud of. And you know, 15 years after putting it out I still enjoy playing every song in the setlist. I can't say the same for other records. Like, we play some old songs and I'm like, "Ehhh I wish we would have done this different or that different or I'm not a huge fan of this chorus or something." So it's been cool to play those songs. The crowds have been awesome. Our touring family is awesome. The bands that we're out here with are great. Holy Fawn is incredible. Drug Church, I loved before this tour started but getting to see them live every night is… they're so fun, and they're so good and they're so tight. Patrick, their singer, is such a good frontman. And then, the mewithoutyou guys we've known for 12 or 15 years and they're an incredible band. I'm bummed that they're putting an end to it but I'm stoked we get to do this with them one last time before they go away.
When you guys were rehearsing these songs again, were there any that were really challenging to learn again?
A lot of them actually. I mean, there were two. There's one album track and one b-side that we'd never played before. And then I think there were only like four songs from Vheissu that are in regular rotation in our sets. So a lot of it was like, "Oh man, we haven't played this in like 12 years or 15 years even." Like, we played it on the first Vheissu tour and then we just put it to bed. So it's cool. It's challenging too because there's a lot of stuff going on. So there's like samples and guys are playing keys too. So we had to figure out the logistics of it all and track down some old samples. So it was challenging but it's been awesome.
Looking forward to the future of Thrice, what excites you most about the band?
Seeing where our brains go for this next record. It's always an exciting and scary time because I feel like we always have an idea of what we want to do and then people start sharing ideas and we get a little bit clearer idea of where the record is going to end up. And then by the time we're done writing and recording everything, it ends up being something completely different – in a good way, though. So I'm excited to see where we end up with this one.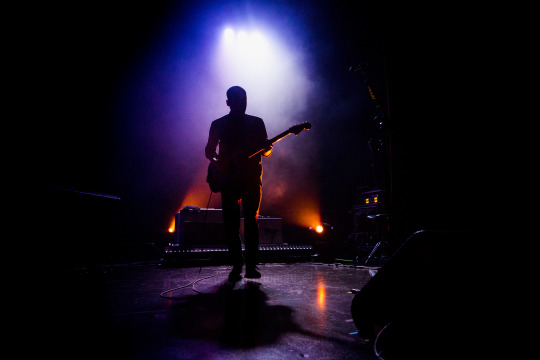 Do you think playing some of these more experimental songs every night might influence the future record in a way?  
I think so. I think it's been a cool exercise to go back to a record that was so important to us as far as branching out and trying different stuff. It's inspiring to get familiar with that stuff again and that way of thinking and then head into a brand new creative process. It's like, it's a better headspace than just kind of rolling from the last record to whatever comes next.
Since you guys have come back from your hiatus, you've been pedal to the metal releasing new music and touring nonstop. Is that how you guys want to keep going?
Yeah I mean, I think after this tour is over we're going to go away for a little bit. We're not really busy for the rest of the year. I mean, we have deadlines that we're trying to hit and stuff but it's a little more relaxed then maybe the last record cycle where we finished touring, we started writing immediately [and] we were like under the gun finishing songs at the very last minute so we could get into the studio and record. This time around, I think we're going to take our time a little bit more and enjoy being home for a little bit.
A break is very well deserved.
The only bad thing about not working and being at home is that when you're not working, you're not making money [laughs]. And stuff still costs money when you're at home. So we can't afford to go away for too long but we're gonna go take our time and hopefully come out with something good.